| | |
| --- | --- |
| | Download in progress... Please wait until the complete download of this web page |

X

a modern opera of 4 Volumes

a PHILOSOPHICAL INTROSPECTIVE TRAVEL for MEDITATION
in a SYMPHONIC MUSIC FREE of STYLES and FRONTIERS

becoming sacred music, or called also Channeling,
when the inspiration is one, between inner and outer :
and offer so a moment of COMMUNION INTO UNIVERSAL REALITY,
when so open, ALL IS ONE, TRUTH OF LOVE..

In this connection you link your soul to Universe,
where SCience of Universe and Spirituality are one,
Sacred Art.

A FUSION BETWEEN
movement (which creates rhythm, melodies texts (sentences of syllables, which turn in loop until to  become words)
and those words give sentences (which often are divination)

Just cause life is in all, so the knowledge is in all :  synthesis which allow intelligence or inner logic.

This Music, All in One, is All in You
when you listen to oneself,
out of space, time, a world of fusion in which all is in  life.


LOOK FOR FINANCE or PROD PARTNER

Metissia  (singer author composer) is looking for a finance or production partner
to produce the Album of the DEMO.
Listen to the DEMO (done in 1987), below
contact :

metissia.art.management@gmail.com




Text Extract from Volume 1 : "ALL IN  YOU : Faith"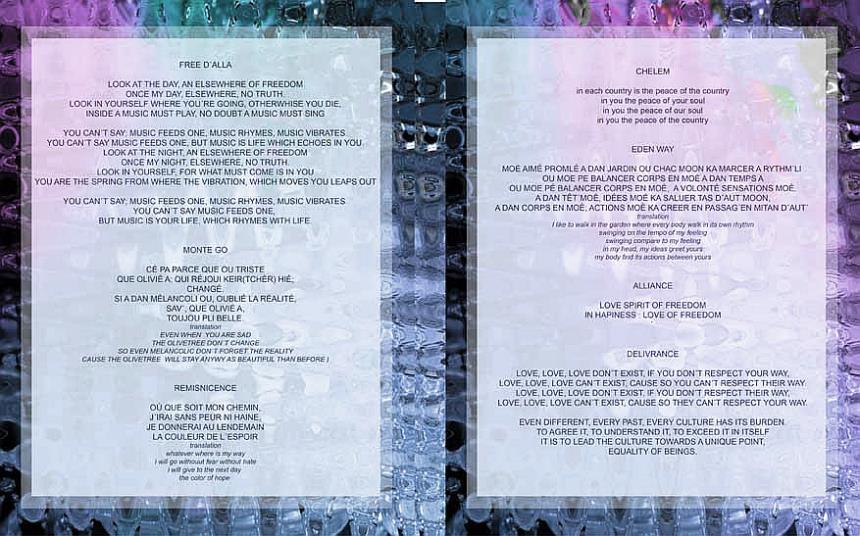 The first volume has for thema "FAITH".
Grain of life growing in oneself, until the inner world is  so rich, that nothing is missing anymore.

At this point, Happiness is stable.
But you can take or leave this way anytime, nothing is definitive,, you always have the choice.

To feel and live what belongs to you for ever YOUR LIFE and  TO ENJOY IT...to learn from life, the Magical World of  Energy...to discover tat you are never alone in oneself....